Let yourself be inspired by our highly skilled and knowledgeable members from the Knighthood of the Academic Art of Riding!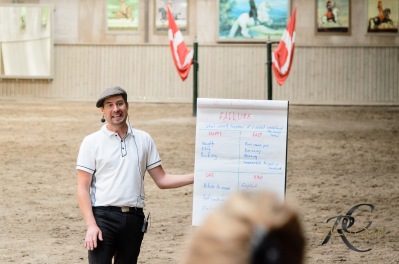 Lectures by:
More information will come.

Bent Branderup
What is the academic art of riding?

Bent Branderup
An historical perspective on the art of riding

Marius Schneider
Crossover position in groundwork

Rebecca Dahlgren
Dressage with a Libertyhorse

Rebecca Dahlgren
How to start your Libertytraining

Christofer Dahlgren
How to school you horse to collection by working on the longe

Christofer Dahlgren
The schooling of the young horse

Christofer Dahlgren
Haut Ecole

Hanna Engström
Influence of the seat

Monika Sander & Lobelia Barker
Illustrated theory

Stine Larsen - Equine anatomy

Stine Larsen is licence Bent Branderup trainer and she is an equine therapist with education in osteopathy, craniosacral therapy, kinesiology, fascia release, acupuncture and massage.
Stine is passionate about anatomy and biomechanic and likes to show the different structures from the inside to give knowledge about the correlation in the equine body.
Stine is travelling around Europe to give lectures and workshops in anatomy, treat horses and give clinics in the academic art of riding.

The lecture at Fair to the Horse 2020 will be about equine anatomy with focus on the skull, jaw, hyoid bone and the stomatognathic system and how the connection influence on the training of the horse. Stine will bring some horse skulls and a horse skeleton to illustrate the theory.
Anna Lindh & Maria Norberg

Maria Norberg and Anna Lindh, are two licensed Bent Branderup ® trainers.
Maria is located at Gesta Gård, Stallarholmen, and Anna at Övre Jäder, Jönåker, both in the beautiful county of Södermanland. Both of them give lessons, weekend clinics and take week students.
Maria has many years of experience in the field of human and horse relations. She has practiced the Academic Art of Riding since 2005 and regularly trains for Christofer Dahlgren, Bent Branderup and Jossy Reynvoet.
Anna is a trained teacher and has many years of educational experience from different fields. She has a background in modern dressage riding, but chose to go for the Academic Art of Riding in 2000. She regularly trains for Christofer Dahlgren, Bent Branderup and Jossy Reynvoet.

In the Academic Art of Riding, the shoulder in and the quarter in, are foundations of the education.
Together with our horses, we will show and talk about how we introduce and how we progress with these exercises. We distinguish between how we introduce them to the unschooled horse, and how we introduce them in the rider's training. We will show and tell you how we start from the ground and continue to the work from the horse´s back.
Shoulder in and quarter in are complex exercises, but we want to break them down into smaller parts, to give an understanding of how they are structured. For us, it´s important that the complex does not become complicated.
Cecilia Mûller
Muscles or fat, how can you tell?
Cecilia Müller is Associate Professor in equine feed science at the Swedish University of Agricultural Sciences, where she works as a researcher and teacher in equine nutrition, feeding and management. Everyday work includes e.g. teaching equine nutrition to students in animal science, veterinary science and animal nursing. Current research includes the role of hindgut microbiota in hindgut upsets suchs as colic and diarrhoea, the role of nutrition in laminitis, and suitability of different grass species in forages and pasture for horses. Cecilia has a life-long passion for horses and all things related, and has a special interest in the Arabian horse. She is a member of the Knighthood of the Academic art of Riding.

Cecilia will talk about "Muscles or fat - how can you tell?" and why it is of interest for the horse trainer. Today we are facing a too high proportion of fat horses with health issues. Many of these issues can be avoided or prevented by thinking twice about feeding, feeding level and body condition scoring. It is not fair to the horse to ask it to perform in training with a lot of extra body weight due to obesity. Cecilia will give a practical demonstration of how to body condition score a horse and how to use the result of the body condition scoring in adjusting feeding levels in order to have horse in normal body condition.
Monica Sander
Joy of movement lecture with games for the audience

Our lecture will be about finding the joy of movement in ourselves, our horses and together through exploring and experiencing a bit more about how the nervous system works.
We are constantly in different processes with our horses; developing, bonding, learning, recovering, being.
How can we provide the best conditions for development, learning and bonding to take place?
How can we make the most of it and what do we need to start working towards the highest possible performance from us both, both physically and mentally?
There are a lot of aspects influencing how the nervous system works and what mode it is in; such as our environment, what state of mind we are in, if we feel safe or not, what tasks we are given, our biology and what stressors we have.
These aspects makes the difference for our nervous system being in a protective mode where it is not very keen on changing and is focused on protecting the wirings we've already got - versus when the nervous system is in explorative mode at its most plastic form, where new wirings can bind and be reinforced by layers of fat as insulation for more efficiency.
Serena and Monika will guide you through some of the theory that plays a role in how we learn and move and how we can use our knowledge of the nervous system to our advantage both for horse and human.
But most importantly the audience will get to do simple games together to experience and explore their own learning, movement and nervous system and thereby also easier understand and find parallels to the horse.
Monika and Serena have inspired each other for many years and together found a symbiosis of both learning and teaching that brings a lot of joy and development both to themselves and their pupils.
When teaching together; openness, laughter, enthusiasm, facts, curiosity, nerdiness, knowledge, playfulness, seriousness and joy all get intertwined together in beautiful chaos. Welcome to our lecture!


Serena Jöngren
I am a human physiotherapist who explores movement in humans and horses. I work full time as a horse trainer, teaching riding, movement and giving lectures. I seek to be a generalist, not a specialist, which is why I use exploration as my mindset and a holistic point of view as my approach. I try to take everything into account; biology, emotions, mindset, safety, stress, task, environment and how everything is intertwined, also between horse and rider. The nervous system is a lens I frequently use to look through, since it's what connects the organism within but also to its environment.

Monika Sanders
I am a licensed Bent Branderup® trainer and have played with the academic art of riding for about 18 years and worked as an instructor for about 15 years. I started out with a keen interest of rehabilitation for horses with problems, but the recent years my main focus has shifted more onto the mental aspects of human and horse and ways of learning, moving, playing, communicating and connecting together. I aim to build bridges and help human and horse find joy in movement, development, challenges and everyday life. Working together with Serena has taught me a lot and we have developed a beautiful interaction and exchange that has become a great tool for further growth and understanding. And it is a lot of fun! The nervous system is seriously cool!!!